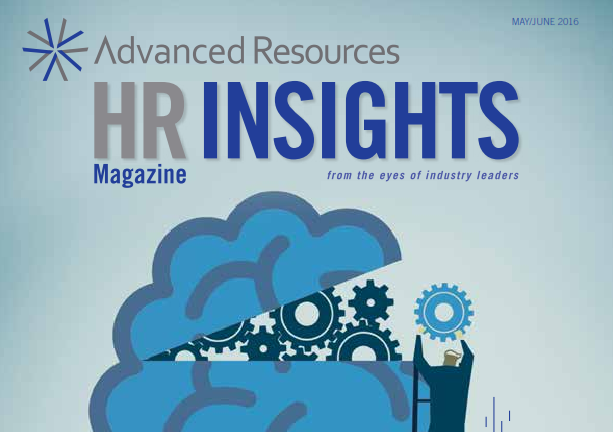 "As soon as you open your mind to doing things differently, the doors of opportunity practically fly off their hinges."

Jay Abraham
Advanced Resources' HR Insights brings you the latest industry news so you can stay abreast of current trends and recent developments in the HR and staffing fields—and stay ahead of your competition.
This edition's feature article, "10 Realities That Undermine Your Knowledge Retention Efforts," discusses one problem that most companies have but few companies address effectively. By considering the issues that Zoe Meinecke raises and figuring out ways to manage them, organizations can ensure that new employees don't have to "spend their first several months on the job trying to recover . . . lost knowledge" and can instead get right to doing the work that most benefits their employers.
Download HR Insights Magazine >
But exploring new directions doesn't mean throwing away the map. In fact, understanding how to navigate within the boundaries (and within the law) is just as important as knowing when to break the mold. In "Hiring for 'Fit' May Lead to Legal Problems," for example, Michael Haberman examines one important aspect of the recruitment and hiring process: finding and choosing people who "fit" with the company culture. But he cautions companies to be sure they are defining and assessing "fit" in terms that are as objective as possible. Otherwise, they may be setting themselves up for litigation headaches.
Jonathan Krause explores another scenario that could lead to legal woes if not properly handled. In "Best Practices: How to Handle Exiting Employees with Non-compete Agreements," he writes that "thinking through—and planning for—departure issues before they arise will allow companies to better protect their trade secrets" and offers suggestions for developing a protocol for this situation.
Companies that want to stay ahead need to keep innovating and exploring new ideas. Reinventing the wheel doesn't lead to success on its own, however: there's still a lot to learn by taking a look at the well-trodden paths, too. We can help your company stay fresh and differentiate itself from the competition while still keeping to the right side of the law and following best practices.
Enjoy!
Rich Diaz