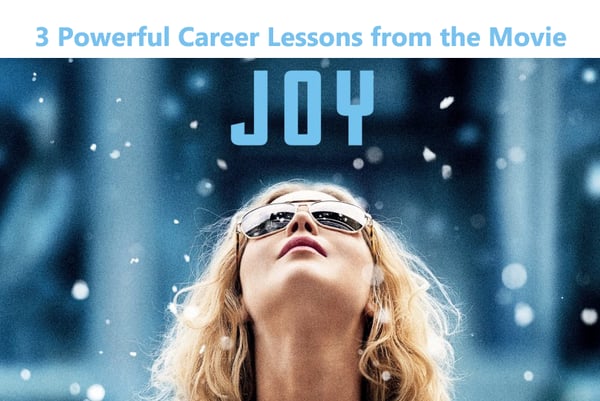 Images: 20th Century Fox
"I have real ambitions and real ideas."
So says Joy, the eponymous character played by Jennifer Lawrence in David O. Russell's latest film. Joy is based on the life and career of Joy Mangano, a noted inventor, business woman, and entrepreneur who launched her career by inventing Miracle Mop. Most of Joy covers the Miracle Mop era of Joy's life, and while the movie takes creative license with actual events, the message of the film offers powerful career lessons.
A Little Bit About Joy Mangano
Joy Mangano was born in 1956. She began inventing at an early age and as a teenager developed a fluorescent flea collar inspired by her job at a local animal hospital. Unfortunately, Hartz Mountain beat Joy to the punch and released a similar product. Years later, at the age of 34, Joy developed the prototype of the Miracle Mop, a lightweight, self-ringing, and super-absorbent mop. Joy started off small, selling Miracle Mop around Long Island. Joy caught the attention of QVC, which ordered 1,000 mops. At the onset, the Miracle Mop sold modestly, but Joy's fortune would change when she was allowed on the air herself, spurring sales of 18,000 units in less than a half hour. Within 10 years, over $10 million worth of Miracle Mops were sold per year.
Joy went on to hold more than 100 patents and in 2009, Joy ranked #77 on Fast Company's list of 100 Most Creative People in Business. (Learn more about Joy Mangano on Wikipedia.)
Now that we know a little more about Joy Mangano, here are a few career lessons I learned from watching the movie Joy.
Lesson 1: It is never too late.
This is what my life has come to. I have a dead-end job. I'm in debt up to my eyeballs and I share my house with my divorced parents, my grandmother, and my ex. Something's got to change.
Careers usually take a few turns. I personally don't know too many people who get it right straight out of the gate. While this meandering path is common, it is easy to get lost, or at least lose sight of your desired destination. As we progress in our careers and our lives become full of responsibilities, changing this path seems impossible. It is easy to fall into a rut, it is easy to believe that an opportunity has been missed --- it is easy to feel stuck.
When the movie begins, Joy is a divorced mother of two. She struggles to make ends meet, is put on the night shift at her job as an Airline Reservations Manager, and has a leaky pipe that is wreaking havoc on her crowded household. Joy feels stuck. But out of these limitations Joy has her "a-ha" moment. She begins to remember what she wants out of life and has a choice to make: stay on her current path or take a risk. You can guess which option Joy chooses.
As professionals, we are often faced with a similar choice. The further we are in our careers the more difficult it is to imagine starting over in a new field, at a new company, or in a new position. Joy shows us it is never too late. And if she wasn't enough proof, take a look at these other 13 People Who Prove It's Never Too Late For A Career Change.
See if you're ready for a career change. Join us for our next Job Seeker Webinar: Are You Ready For A Career Change?
Lesson 2: Confidence and conviction is key.
Trudy: "You are in a room and there is a gun on the table. The only other person in the room is an adversary in commerce. Only one of you can prevail. Do you pick up the gun, Joy?"

Joy: "I pick up the gun."
In this compelling scene, Joy is being questioned by a potential investor on how committed to her business she is, and while I don't recommend firearms in business meetings, I do think the question speaks to a deeper understanding of conviction and what it means in your career.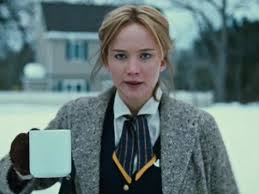 There are many reasons why people make career choices. Whether it is for salary reasons, prestige, employee benefits, or social conscience, you have to have conviction in your choices. In a recent post, I wrote about the importance of knowing what you're searching for in your next career step and how to accomplish that you must have a clear understanding of what you value most in your work. Having this self-awareness will help you identify the companies that are a cultural fit, help to determine which opportunities to pursue, and will help you confidently answer the "why do you want to work here" and "why is this position right for you" interview questions.
Read Ping-Pong or Purpose Part 1 & Part 2.
Confidence and conviction are keys to success and they are necessary for what I think is the most important career advice from the movie Joy:
Lesson 3: Own it!
"Listen to me. Never speak... on my behalf... about my business... again."
The most important takeaway from Joy is that to be successful, you must have ownership over your life and career. Passively going with flow, placing blame on others, and not being accountable for your choices are easy ways to lose sight of your desired career outcomes. You have to own your career and your choices.
Owning your career means you are connected to the work you do and are dedicated to improvement. Major companies like Google view ownership as a highly desirable trait in their hires because it shows that employees will be invested in their projects and will push themselves to grow and develop.
Joy takes ownership at several critical moments that lead to her ultimate success. She takes control over her life and takes a risk on her ambitions and ideas. When a QVC spokesperson tanks the first Magic Mop telecast, Joy takes ownership and presents the mop herself, leading to thousands of sales. When Joy is pushed to near bankruptcy due to meddling family members and dishonest manufacturing partners, she again takes control of her circumstances and empowers herself to make decisions. Taking ownership isn't always easy, but when you do, it can be inspiring and invigorating. I'll leave you with one final quote that sums up creating your success by taking ownership:
"As you grow up and you come into the world that has all sorts of things in it, money, crime, betrayal, you realize that the only thing you're gonna have is what you make."
Everyone has a personal story. Advanced Resources help yours unfold the way you want it to. With us, it's personal. See how in our It's Personal video gallery.