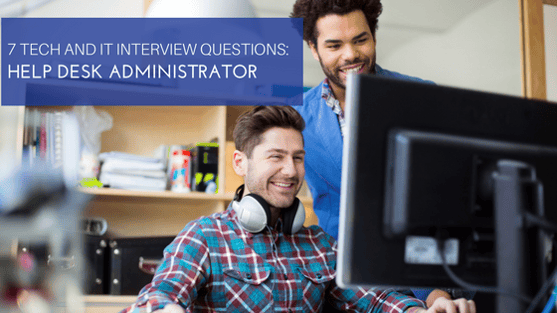 Welcome to this edition of "7 Tech and IT Interview Questions." If you work in information technology or are trying to find the right talent, you already know the tech landscape is vast and the skills needed for a business analyst are very different from those needed by a network architect. This series presents seven interview questions specific to one position or functional area in IT. In this post: Help Desk Administrator.
What is a Help Desk Administrator?
The role of a Help Desk Administrator is to handle system support activities for their organization. Their primary responsibility is providing customer service to resolve support issues promptly and professionally. Help Desk Administrators respond to wide range of functional and technical needs, inclusive of server and domain changes, advanced system and network repairs, computer information responses, equipment performance set-up, monitoring and reporting, hardware diagnosis, troubleshooting operating systems and software applications, among others. They must also identify opportunities to improve support such processes across the organization.
7 Important Interview Questions
In your previous call center experience, how many users did you support and how many calls would you take on an average day?
Which operating systems can you support? And what would you say are the common issues you deal with those systems?
What kinds of hardware and software applications can you support? And what would you say are the most common issues you dealt with those systems?
What rights did you have to the network (network maintenance dive mapping, etc.) and how did you support/troubleshoot network-related issues?
What was your problem escalation procedure?
Based on your experience, what help desk or ticketing management tools/software have been most effective?
What certifications do you have? Are you currently working towards any others?
These questions can be a great starting point for assessing general Help Desk Administrator skills and experience. Augmenting this list with questions specific to your company's needs – like what tools are they proficient in or industry related topics – will help you find a Help Desk Administrator to move your organization towards its goals.
Do you need to add a Help Desk Administrator to your team? Advanced Resources' Technology Division can connect you with experienced and in-demand Help Desk Administrator talent. Learn more here.