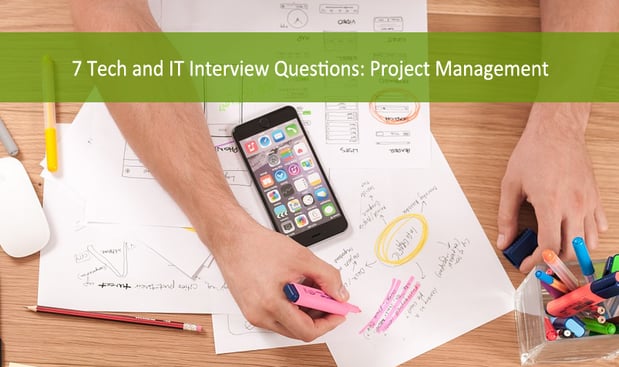 Welcome to 7 Tech and IT Interview Questions. If you work in information technology or are trying to find the right talent, you already know the tech landscape is vast and the skills needed for Project Managers are very different from those needed by Database Administrators. In this series we'll present seven interview questions specific to one position or functional area. In this post: Project Management
What is IT Project Management?
An IT project manager is responsible for defining the process for taking a technology plan from the idea to completion stage. This includes project planning, organizing resources, and delegating responsibilities to achieve project goals within scope and on time. Project Management is a critical component to the successful completion of technology initiatives.
Project Management Titles include: Project Manager, Program Manager, Project Coordinator, and Project Analyst.
7 Important Interview Questions
What are your key project management strengths?
What type of projects are you most comfortable working on? (Web projects, applications, integrations, etc.)
Describe your most recent project. What was the goal of the project, your role, and what was the size, scope, and budget of the project?
Are you more hands-on or administrative on projects?
What project management tools do you use?
Describe a situation where there was a project roadblock. How did you overcome that challenge?
In your opinion what components/characteristics make up a strong project management team?
These questions can be a great starting point for assessing general project management knowledge and approach. Augmenting this list with questions specific to your projects - like proficiency in specific languages and environments - will help you build a strong project management team.
Do you need to add a project management professional to your team? Advanced Resources' Technology Division can connect you with elite PM talent. Learn more here.