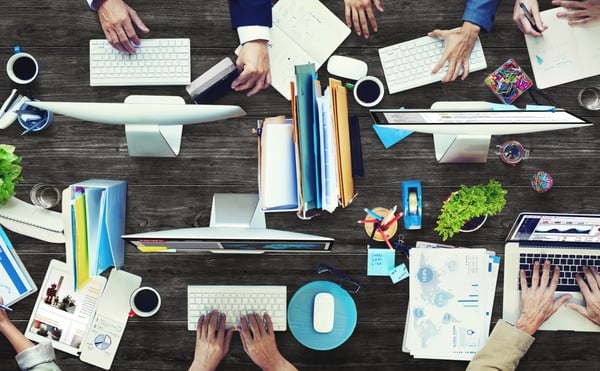 This week, the last full week of April, is Administrative Professionals Week®. The Wednesday of this week is Administrative Professionals Day. According to the U.S. Bureau of Labor Statistics, in 2010 there were more than four million secretaries and administrative assistants working in the U.S. How did this professional group come to make up one of the largest segments of the workforce? Here's a brief history from the International Association of Administrative Professionals:

The role of the secretary seems to have always been that of a confidant and assistant. The exact origination is unknown, but it is known that the secretary, a role dominated by men until the 1880s, existed prior to the establishment of the Roman Empire. They labored long hours maintaining account books and performing stenographic duties.

15th and 16th Centuries – Secretaries often attained an elevated status and held prominent positions. Status titles frequently included "personal" or "private."

1880s – Invention of the writing machine. Many women entered the office workforce in various clerical roles.

Turn of the Century – The industrial expansion caused business offices to face a paperwork crisis. To solve the crisis, women adapted to new technologies such as the adding and calculating machine, telephone, and typewriter. Many women held, or aspired to hold, positions as secretaries.

1930s – Women dominated the workforce as a number of men with the title secretary dwindled. The women were seeking the pay and professional status previously enjoyed by their male counterparts.

1942- National Secretaries Association (NSA) was formed. It's now known as International Association of Administrative Professionals.

1951 – NSA first administered the Certified Professional Secretaries Examination, a standard of excellence for the profession.

1952 – First Administrative Professionals Week®
The 21st Century Administrative Professional
Nowadays, the administrative professional is often required to have skills such as project management, technology, organizing and scheduling, customer service, public relations internet/intranet communications and integrated computer software applications.
Among their many duties, admin professionals often are in charge of purchasing office supplies, planning meetings and events, creating and giving presentations, orienting and supervising other staff, handling correspondence (voicemail, email and postal mail), writing and editing documents and maintaining computer files, directories and databases.
According to an IAAP member survey in 2005 the most common job titles were:
- Administrative Assistant: 30%
- Executive Assistant: 18%
- Executive Secretary: 6%
- Office Manager or Supervisor: 5%
- Secretary: 4%
Among those surveyed, 26% have a wide range of titles including:
- Coordinator
- Administrator
- Specialist
- Associate
-Denoting specialized business functions such as legal, accounting, medical, human resources
The future for the administrative profession
The job outlook for secretaries and administrative assistants is expected to grow by 12% from 2010 to 2020, on par with the national average for all occupations. Technology will continue to play an important role, and employers are willing to pay more for specialized skills such as desktop publishing and database management.
As the IAAP puts it, "The future is bright for computer-literate, well-educated, customer service-savvy office professionals."
Tell us: How are you celebrating Administrative Professionals Week®?