Our recent panel discussion might make you think twice about putting diversity and inclusion (D&I) on the backburner. Not only do these initiatives help create better employee and customer experiences, but it's also good for your business.
Different perspectives lead to powerful business results, and here's a few reasons why. Gender-diverse companies are 15% more likely to have higher employee performance. Companies with more racial and ethnic diversity outperform their competitors by 35%. And when it comes to decision making, diverse teams make better decisions 87% of the time.
We assembled a panel of experts to share their experiences in developing D&I programs at their companies. They discussed the benefits of developing a diverse workforce and highlighted ways that they've focused on diversity within their organizations. Our impressive line up of panelists included:
Troy McIntosh, senior director of diversity and inclusion, U.S. Cellular
Sharon Lawrence, vice president of talent management and organization development, NorthShore University HealthSystem
Henry Jones, director of talent acquisition, Conagra Brands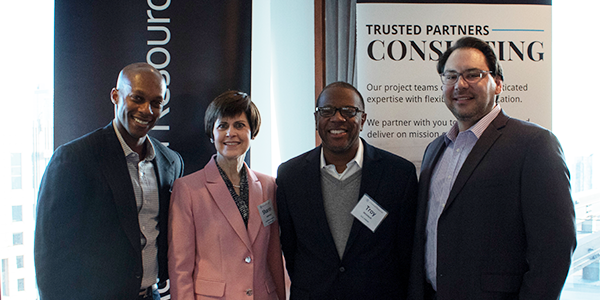 Here are some of the highlights from the discussion.
1. D&I is a balancing act.
Sharon explained it this way: "Diversity is being invited to the party, and inclusion is being asked to dance." She shared the importance of employees feeling that they can bring their real selves to work, be heard, be respected, and be able to innovate. That's when the real benefits of diversity programs can be achieved.
2. It's not just about internal diversity.
For Conagra, diversity is an internal HR initiative, but also something that the company's marketing team needs to consider as well. Henry shared that the company looked at how diverse its client-facing messaging and advertising was - from the website to social media presence. The team made some changes to ensure it included people of different sizes, colors and other various dimensions of diversity.
3. It's about education for both employees and customers.
Diversity today is far more than gender, skin color or age. How about political diversity? Political differences were creating some tension at U.S. Cellular stores, especially after the election in 2016, shared Troy. Recognizing the importance of embracing political diversity, the company equipped leaders to have safe conversations about difficult issues.
4. D&I is more than a program or initiative.
Sharon explained that it must "be a part of the fabric" of your organization. It's all about creating a certain experience for your employees. Similarly, Henry shared that "D&I is a journey, not a destination." It's not just about hiring diverse talent, it's about retention and promotion as well.
5. Executive support is critical.
Troy talked about the importance of executive stakeholder support. "You need CEO support. There's going to be a limit to what you can do if your CEO doesn't align with you." You also need support and alignment from HR, as well as other major business partners, to be successful.
6. Technology can help scale D&I efforts.
Henry talked about Conagra's use of AI in recruiting with a tool called Eightfold, which helps them better match candidates and access a more diverse funnel of talent. Troy talked about U.S. Cellular's use of Textio to use more neutral language in job descriptions. And Sharon focused on NorthShore's use of technology once employees are onboarded through employee engagement surveys.
7. You need qualitative and quantitative data.
Sharon shared NorthShore's success with a leadership council to increase communication around the topic, using qualitative data to move the D&I needle. Both Troy and Henry shared how their companies are looking at quantitative data to gauge impact and success.
At Advanced Resources, we feel that hosting these thought leadership panels is an important way to do our part to bring light to topics that are critical to our clients. If you are interested in attending future events, visit our Events page for upcoming information or reach out to your Advanced Resources representative.