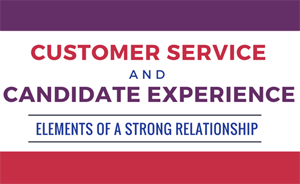 I have a confession to make: I am not a foodie. I enjoy going to restaurants, but unless something goes horribly wrong with my entrée, the actual food I eat will not be the determining factor in whether or not I rant or rave about my experience; that is usually reserved for the service experience. I would say that is true beyond dining, too. Buying a suit, getting a haircut, or having the oil changed – the customer service experience is what really puts one vendor or service provider over another. A colleague recently pointed out that you can take the same Boeing 737 from Chicago to Dallas for roughly the same price on Southwest, United, or American. The only real difference is the customer experience. Add this to the power of customer review sites and social media and the customer service reputation of a company can make or break its success.
Understanding the impact of the customer experience on my personal purchasing decisions and the power of customer reviews lead me to wonder: If the customer experience is so critical to where people choose to spend their money, why is it so often overlooked by where people choose to earn it? That is to say, candidates (especially in a full-employment economy or in industries where competition for top talent is fierce) have a choice on where they work, so why aren't more organizations providing a better "candidate service experience?"
What Makes A Good Experience?
A good customer experience is defined in many ways, but I think the true test of exceptional customer service is the feeling one walks away with. While researching for this post, I read several accounts of great customer service experiences (check some out here and here). While reading these stories I was uplifted and I started to remember my own encounters with exceptional service and how positive they made me feel about the brand or person with whom I was dealing. During this process I started to notice four common elements that make up a positive experience:
Acknowledgement
Respect
Honesty/Transparency
Gratitude
In the infographic below, we'll take a look at ways these elements can be expressed in both the customer and candidate experience.

Advanced Resources is focused on delivering a quality experience for both our clients and candidates. We take the time to understand our clients' needs and our candidates' goals, which is how we've helped thousands of professionals with their careers and thousands of companies in their quest to obtain top talent. With Advanced Resources, it's personal. Are you ready for a staffing experience unlike any other? Visit www.advancedresources.com to learn more.