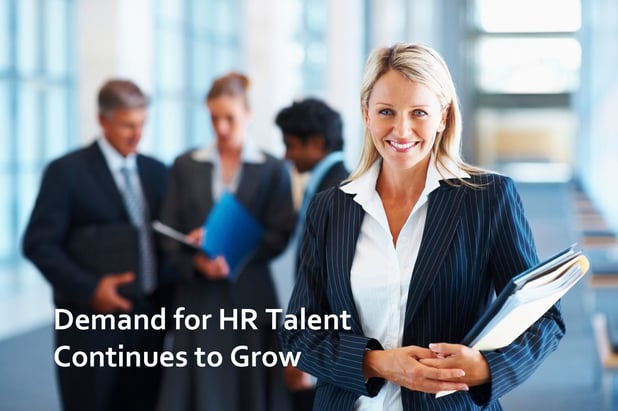 HR professionals have important roles and responsibilities in addressing human capital issues within their organizations. According to the Society for Human Resources Management (SHRM), priorities in 2015 for HR professionals have included managing talent, improving leadership development, delivering on recruiting and staffing, and managing change and cultural transformation.
What about demand for HR professionals? What are the current trends in HR employment? SHRM recently released their Summer 2015 "HR Jobs Pulse Survey Report." The report examined hiring trends in the HR profession as well as HR professionals' faith in their own job security and ability to find work elsewhere. The findings show that the demand and movement within the HR field continues to rise.
Human resource generalists are the most sought-after HR professionals, with 55 percent of respondents saying they were hiring for the position. Almost one-quarter (24 percent) of companies that are hiring are seeking HR professionals with employment/recruitment skills. That category was followed by people with benefits experience (16 percent of companies hiring), employee relations skills (13 percent) and training/development skills (13 percent).
How confident are HR professionals about their potential? 88 percent of participants expressed some level of confidence that they could land a new position if necessary. This figure represents a 3 percent increase from December 2014, and a 9 percent jump from January 2014.
28 percent of those surveyed said they are already looking for a new job. Among this group, 24 percent indicated they were voluntarily seeking greener pastures. Another 22 percent said they were either "likely" or "very likely" to start a job search within the next 12 months.
What are HR professionals seeking? Why switch jobs? 37 percent of those who are currently looking (or plan to be in the next year) cited more compensation as the primary reason. Another 33 percent noted better career advancement opportunities, with 32 percent saying they were in search of better overall organizational culture.
Advanced Resources' HR Division was created to help Chicagoland's best employers win the growing war for HR talent. For HR professionals, Advanced Resources can help you maximize your potential and achieve your goals through exceptional HR contract and direct hire opportunities.
In fact, that's what we did for Wendy, an HR professional who wanted more flexibility and exposure to new, exciting businesses. Click here to hear Wendy's story and the personal approach we took to help her achieve her goals!