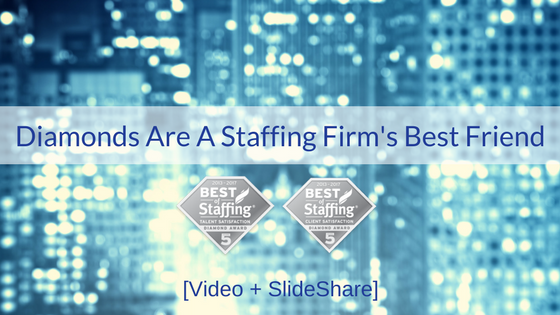 We recently announced that Advanced Resources has again been recognized by Inavero, earning the Best of Staffing® Client and Talent Diamond Awards for the eighth consecutive year. Not only that, but Advanced Resources is one of just four staffing firms in the U.S. and Canada to win the Best of Staffing Client and Talent award every year since the program began. As you can imagine, we are through the roof with excitement over this honor and we thought it would be fun to share what some of our clients and talent had to say about us! Take a look at this video:
Want to learn more about what makes Best of Staffing award winners so different from the rest? Take a look at this SlideShare:

We are incredibly proud of the work we do and the people we work with, both clients and talent. We can't wait to continue to deliver a staffing experience unlike any other and earn this recognition in 2018!
Would you like to work with the Best of Staffing? Contact us here.