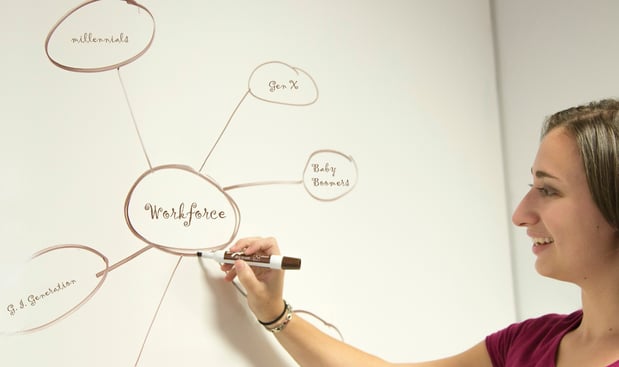 Managing a cross-generational team can sometimes be a challenge. During our Thought Leadership Event - Generations at Work: Managing the Mix - we aimed to provide ideas and solutions for bridging the gap in the workplace. Our panel of experienced human resource professionals shared their best practices for managing a mix of generations. Our panelists were Gary Beu, Managing Director- People and Leadership Development at West Monroe Partners; Brent Bachus, Talent Director at Deloitte, Felix Martinez, Director of Talent Acquisition at DeVry, Inc.; and Neil Weisman, EVP and General Manager at BlueChip Healthcare Marketing.
The theme of the discussion centered on understanding how each generation works. You've hired the best; now make sure they can be the best they can be.
The Generations in the Workplace
Traditional - Born before 1945.They're loyal, hardworking, respectful, independent and have great interpersonal skills.
Baby Boomers- Born between 1946 and 1964. Baby Boomers are well-educated and tend to question authority (think the Woodstock generation), but still do as they're told. They have excellent teamwork skills.
Generation X- Born between 1965 and 1980. They're independent, hardworking and socially responsible. As a generation of children of divorced parents, they're also family-focused.
Generation Y - Born between 1981 and 1994. Generation Y is also known as the "entitled" generation. They grew up with highly-involved parents, as children of Gen X, they're influenced by technology, are loyal and demand a work-life balance. Gen Y-ers will do as they're told, but they need to know why they're doing something - "How does this fit into the bigger picture?"
Generation Z - Born after 1994. This generation is well-connected, having grown up with Facebook and social media. They're socially active and have good values.
Keys to Bridging the Gap
The Key: Openness
Keep lines of communication open. Some companies have instituted an open door policy - literally. The C-level execs leave their office doors open to make themselves available for questions and concerns.Other companies have created completely open floor plans with the C-level execs sitting across from interns.
In addition to open floor plans, foster an open environment where employees feel comfortable enough to show vulnerability. They'll quickly connect with each other and earn one another's respect. Don't know how to convert a jpeg into a PDF? Ask.
The Key: Flexibility
Younger generations want to get their work done on their time. Older generations want to work 8 to 5. How do you get them to work together?
Often times people equate flex work schedules with working from home. Our panel seemed to agree that the key to giving all generations the work-life balance is not a work-from-home policy but a flexible hours policy. Employees can work 10 to 7 or work 9 to 3, take a yoga class, and come back to the office to finish work. Decision making, as Gary put it, is best done face to face. Having everyone in the office helps build and strengthen relationships.
The Key: Respect
You've hired the best. It's up to you to make sure they are shown respect and to allow them to do what they were hired to do. In doing so, help each employee understand how they individually add value to the team and to the company.;Younger generations want accountability and ownership. Respect their desire to take leadership and help them foster their leadership skills.
Through openness and vulnerability, you are fostering an environment of trust and respect.Understanding how each generation works, what motivates them and what sets them off, will help you as the manager break the walls down and build relationships. All generations need a willingness to understand and respect each other.
Tell us: What are some things you've implemented to help bridge the gap in the workplace?