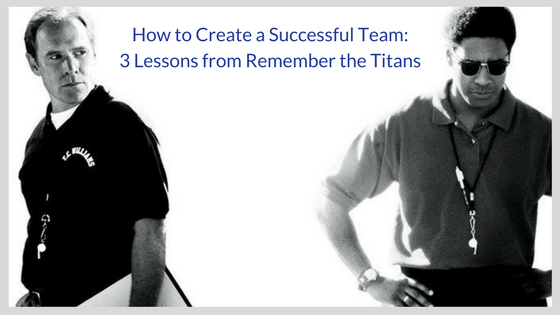 What makes up a successful team in the workplace?
Most people will say "talent." However, most effective teams don't achieve success on talent alone.
Remember the Titans is based on the true story of the integrated T. C. Williams High School football team in Alexandria, Virginia, in 1971. The movie primarily focuses on two people, Herman Boone, an African American head coach played by Denzel Washington, and Bill Yoast, a Caucasian assistant coach played by Will Patton.
In the beginning of the movie, the two coaches meet to talk about not only how they're going to integrate the black players with the white players, but on how to form a team that will win. Each coach has distinctly different methods, creating a fractious relationship between them. The white and black players dislike each other while racial tension continues to surround them at every turn.
So how do they overcome these challenges? Here are 3 lessons from Remember the Titans that you can learn from to create a successful team.
Lesson 1: Build personal connections
Before the season starts, the entire team is sent to Gettysburg College for training camp. Coach Boone wakes the entire team up at 3 am to go on a "little" run. After several miles of running, Coach Boone stops as he arrives at the Gettysburg Cemetery overlooking all the lost soldiers from the Battle of Gettysburg.
With an exhausted congregation of players behind him, Coach Boone goes into a speech about coming together as a team.
If we don't come together right now on this hallowed ground, we too will be destroyed, just like they were. I don't care if you like each other of not, but you will respect each other." —Herman Boone
https://www.youtube.com/watch?v=uiqdA1B3_Nc
Coach Boone then builds a strategy where each white player must be roommates with a black player. They must also conduct a session each day where they get to know each other and present the information they've learned about their new teammate.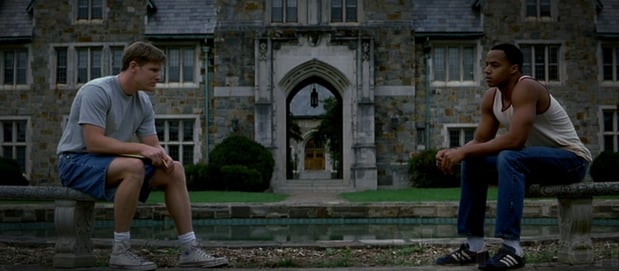 https://www.youtube.com/watch?v=YWE5lI_UYqM
It's incredibly important to take the time to learn about the people you work with.
Where are they from? Do they have any brothers or sisters? What are their hobbies?
These things might seem insignificant to your overall goal, but they're not. You're building relationships and creating the foundation of your team culture.
By making personal connections, you're building trust with the people you work with. To achieve success as a team, you're going to need each person's expertise at some point on the journey to your goal. It's important that you can rely on each other for guidance and help when needed. By breaking down racial barriers during training camp with these "getting to know you" sessions, the Titans were able to come together as a team because they found common ground and earned each other's trust.
Lesson 2: Strong (internal) leadership
During training camp, the top two players on the team, Julius Campbell and Gary Bertier, have an argument after practice. Gary, the captain of the defense, is angry with Julius because he's not listening to Gary's instructions while on the field. Julius points out to Gary that he doesn't feel connected to the team because none of the white players are blocking for the black players. He stands his ground against Gary and holds him accountable for his lack of leadership.
https://www.youtube.com/watch?v=guA_4AzXqh0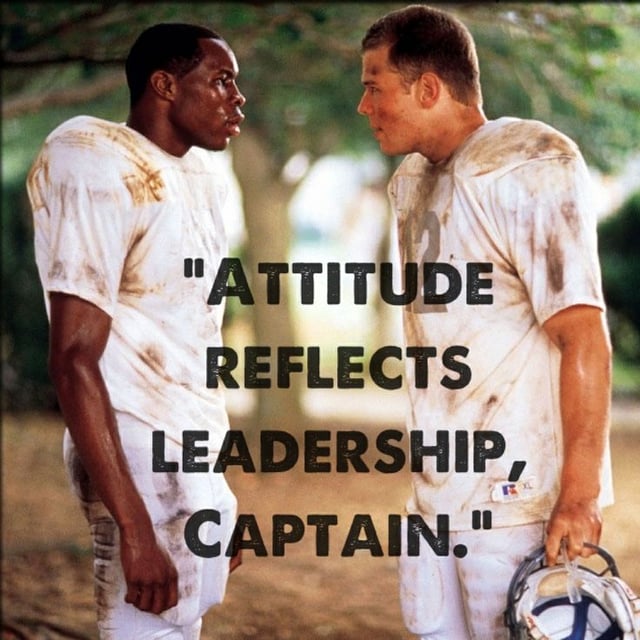 Strong leadership is a necessity for any successful team. What this movie shows us is that leadership can come from anywhere, not just at the top. All effective teams usually have a great boss, CEO, head coach, etc. However, great teams have leaders inside their unit working together to solve problems as they arise. Internal leaders are able to provide honest feedback and can hold their peers accountable for their actions.
Lesson 3: Adapt or die
There are countless examples throughout the movie that involve the importance of adapting to change.
One example is when Gary Bertier kicks his best friend, Ray, off the team for not blocking for their black teammates. Ray's racial prejudice and unwillingness to see past the color of his teammates' skin disrupts the goal of the team. Effective leaders don't allow negative energy to permeate their team's culture.
https://www.youtube.com/watch?v=CYBgQ6h6Fys
Another example is when Julius is invited to Gary's house, which is located in a predominately white neighborhood. Julius is stopped by a white cop, only to tell him that their team's defense is the best one he's seen in 20 years. Julius and Gary's friendship was the glue that held the team together because of their willingness to adapt.
https://www.youtube.com/watch?v=Z3qv9h08f0Q
The Titans' ability to make changes on the field and in their hearts is why they went on to win the 1971 Virginia State Football Championship.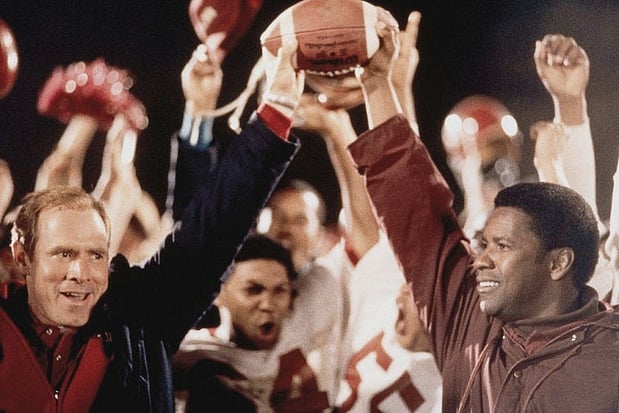 Every team brings together different personalities and opinions that need to be managed in order to be successful. This movie shows how listening and respecting one another can be the catalyst for a team's success and how internal leadership and accountability can help steer your team in the right direction if you go off course. However, the most important takeaway from Remember the Titans is to not allow fear to limit your team's potential for greatness in the workplace. Listen, be open, and don't be afraid to adapt to the world around you.
Do you need to build your winning team from scratch? Visit advancedresources.com to learn how we can help.