I am envious of anyone that entered this past year with experience working remotely. There are many different trainings that I have been involved with, either as a facilitator or a student, but none of them focused on working remotely. While there is no substitute for in-person relationship building, technology has made it possible to closely replicate the benefit of face-to-face connections. Here are some tips I've learned for fostering a virtual culture:
1. Camera on!
Let's see those faces! There are too many tools to mention, but everyone should have access to a technology platform that allows virtual meetings with camera functionality. While you are on those morning meetings, make sure to encourage all of your team members to put those cameras on.
Read: Remote Communication Strategies During COVID-19 and Beyond
2. Communicate often.
I often took for granted how easy it was to have an 'impromptu' meeting in the office. While you can no longer just run into someone in the office, you can still have those meetings. Calling one of your team members unscheduled, just to check in, can make them feel appreciated both for their work and on a personal level. Additionally, while those 'I forgot about something I needed to tell you but good thing I ran into you' opportunities are lost while not in the office, you can closely replicate them with a camera call. When you have information to share, don't delay…share it is soon as possible. Make people feel a part of the business by sharing information and being as transparent as possible.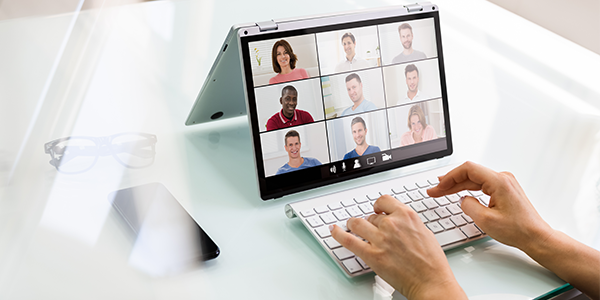 3. Don't forget…work can be fun too!
Spice meetings up every once in a while. My team has meetings every morning and afternoon; a teammate came to me with an idea of having a weekly 'happy hour' in place of one of our afternoon meetings. I'm embarrassed that I didn't come up with the idea. Take the time to team build every chance you get. Chances are, it's even more important now than it ever was. While we are all at work to execute our company's mission, employees will do so more effectively when work doesn't feel like 'work.'
4. Embrace the "home" part of 'work from home.'
For me, one of the best parts of our new reality is seeing how people live. This is an opportunity that rarely came up prior to this last year and I love seeing the environment the people I work with live in. I love seeing where they work, having their families pop in and out of calls, and seeing pictures and artwork in the background. I feel like I know the people I work with much better now than I ever did before. I love interacting with people's kids or poking fun at someone's internet issues (and they have happened to everyone one of us while at home at some point or another!)

We never envisioned the year that 2020 would be; everyone needs to play their part in making the best of the hand we were dealt. While virtual meetings cannot completely replace the effect of an in-person, face-to-face meeting, the steps above will allow us to come as close to possible to replicating them. Remember: have fun with those virtual meetings!