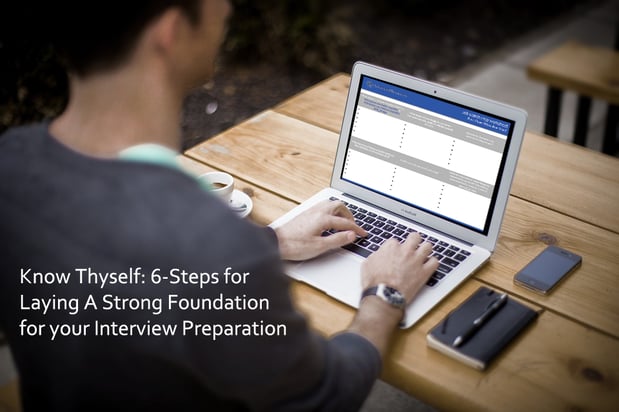 The average length of an interview is 40 minutes. It's hard enough trying to show a hiring manager who you really are and prove yourself capable of excelling in a role, not to mention in such short time. How do you ensure those 40 minutes in front of your potential future employer are the most dynamic 40 minutes possible? The answer is quite simple, you prepare the right way.
In preparing for an interview, most people only prepare answers to specific questions but that's just not enough. The way to make your potential future employer your guaranteed future employer is to be memorable and outstanding among the pool of candidates. But in order to be memorable and outstanding, you must first know why you're outstanding and what makes you memorable. In other words, you must first know thyself.
The interviewer is trying to figure out four main things about you: Do you demonstrate the skills that we need? Can you solve our problems? Are you able to contribute to our company? Are you the best fit for our organization?
In order to prove these things, you must spend time thinking through the specific reasons you're fit for the position and the best qualities you have to offer.
Among other thought leaders, Advanced Resources recommends the first step in interview preparation should be taking the time to truly and deeply know thyself and recognize the best things you can offer as an employee. To know thyself means to fully understand who you are in terms of your strengths, skills, motivation and character.
Use this Job Search Preparation Worksheet to help set a strong foundation for your interview preparation.
Top 5 Strengths
What are your top 3-5 strengths you want the interviewer to remember about you? This isn't your elevator speech, these are 3-5 power points to highlight in your answers and really drive home throughout your interview. In addition to these 3-5 value-adds, it's crucial that you identify your main 'hook' as well. Your hook should be a take-away that gives the hiring manager enough reason to not walk away from your potential.
Knowledge Areas
What are the areas in which your skills, strengths and knowledge make a difference in your job and to your employer? Reflect on different projects and challenges, what made you a valuable asset to your teams? What are you considered the go-to person for? Refer to the key competencies of the role and align your distinctive experiences as closely to the role as possible. The key is coming up with specific examples that prove your knowledge and expertise will make you an asset to your future employer.
Most Proud Accomplishments
What are some accomplishments and achievements that you're most proud of? Take inventory of your professional accomplishments and be able to identify at least three that show what you are capable of. It is important that you focus on the results of your hard work and not just the effort portion. Your willingness to work hard is certainly something to be proud of but take it one step further and focus on the results of your hard work. How did all those long hours pay off? What was the result of your best effort? These measurable achievements are the things that can make you more desirable to hiring managers.
Areas of Interests
Based on what you know, what about the company, industry or role excites you most? What ideas do you have for the company or the team? Think back to some of the things you've learned on the job, challenges you overcame that required you to learn and think on your own. Hiring managers believe the best candidates are always learning new things that they aren't required to learn, and by doing so they prove to be workers who will go above and beyond.
In addition, dig deeper than your career and find out what you're really passionate about that might not be resume-material but it's something you love taking about. It's the small talk that often reveals what you're going to be like to work with, so take inventory of your personal interests and don't shy away from a small-talk opportunity during your interview.
Personal Values
What are your individual core values? Paycheck aside, what are the most important things in your life? Over the last few decades, research has shown that people whose intrinsic motivations align with their work and their company's mission are more successful than those motivated by a paycheck. Because of recent shifts in workforce culture, employees are now ascribing to organizations with characteristics of family and friends who share similar values. When taking inventory of your values and intrinsic motivators, think about the qualities you look for in leaders. Ask yourself, in what ways do I want to become a "better person"?
Areas for Development
Prepare strategic answers to the dreaded but inevitable question, "What are your weaknesses?" As yourself, what holds me back? What can I improve upon? Your answers to these questions shows more about your character than your aptitude. For example, if your weakness is public speaking but you've shown effort towards overcoming your weakness in public speaking, you demonstrate accountability and desire for learning, which will undoubtedly count in your favor. Another way to frame your weaknesses is to approach them as goals. What are some skills you'd like to develop or experiences you'd like more exposure to?
With the time you take to truly know thyself, you're laying the foundation that prepares you to answer any interview question that might be thrown your way. If you're asked about leaving your job, you know your answer is a combination of your personal values, areas of interest and top 3-5 strengths. If you're asked about an accomplishment, a mistake or a difficult situation, you're already prepared with your knowledge areas, most proud accomplishments, areas for development and personal values. We humans are hardwired to seek our purpose and cause; in knowing thyself you're preparing for a career that accomplishes both.
At Advanced Resources, our purpose and cause is placing top talent with top employers, and dedicating our work to truly "Making a Difference" in the lives of everyone we serve. Take a look at some of the success stories of how we've enabled our candidates to achieve their full potential. With Advanced Resources, it's not just business as usual, it's personal.