---
"Excellent firms don't believe in excellence – only in constant improvement and constant change." - Tom Peters
Consider this: the average lifespan of a company listed in the S&P 500 index of leading U.S. companies has decreased by more than 50 years in the last century, from 67 years in the 1920s to just 15 years today. Today's rate of change is faster than ever. Companies have to continually stay ahead of the curve, making change a constant factor in how businesses operate today.
Gone are the days when "Change Management" was a separate practice or initiative within companies. Today, smart companies are focused on building Organizational Agility: a company's capability for changing rapidly or adapting in response to changes in the market. A high degree of organizational agility can help a company to react successfully to the emergence of new competitors, the development of new industry-changing technologies, or sudden shifts in overall market conditions. Responsiveness to the external environment, coupled with internal flexibility, allows companies to quickly realign when possible to capitalize on business opportunity.
On Thursday, November 10, 2016, Advanced Resources hosted another compelling Thought Leadership Session, "Organizational Agility: The New Way to Manage Change." The session, moderated by the President of Advanced Resources, Rich Diaz, focused on perspectives shared by three expert panelists. Today's blog recaps the major themes shared throughout the session.
Transparency is Key
While change is "the new norm," companies can't have organizational agility without successfully managing change transparently with their employees. Honest communication builds credibility and trust.
It's ok for employees to be in denial or to be angry when change happens to them. We might be disrupting relationships, reputations, and/or how people define themselves at work. So many companies jolt employees with major changes or they feel change needs to be revolutionary. Agile companies know that change is more of an evolution than a revolution. When employees are jolted by change, it becomes more difficult for employees to be engaged and productive. As one of our panelists shared, during times of little to no change, leaders can expect employees to be productive on average for 6 hours a day. During times of change, that number shrinks dramatically to 1.5 hours a day.
Leaders have to respect the stages people go through during change. Another of our panelists referred to the Kubler-Ross Change Curve to illustrate this point: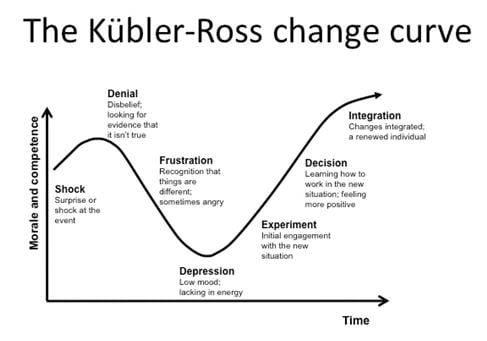 Communication is Critical
Transparency and communication go hand in hand. Managers almost always think they're over communicating but the reality is, employees do not think we're communicating enough. Timing and perspective also matter. Management has often been privy to news about upcoming change long before the employees become aware. By the time leaders communicate about changes, it might be "old hat" to managers but they have to remember, employees are hearing it for the first time.
Keep in mind also that despite the most sophisticated internal communications strategies, the most beautiful videos, the most wonderful intranets, or the most impressive internal newsletters … the most important and effective communication channel is the communication that is shared from manager to employee, one on one.
Simplicity is also critical. We're so good at making things complicated for our employees, while simplicity can unleash the power of our organizations. For instance, the vocabulary leaders use is very powerful. We will succeed more with simple messages that people can understand.
Build Your Company's Capability for Change
The world we live in thrives on change. There are multiple changes on multiple fronts, all of the time. It is leadership's job to prepare an organization to adopt and adapt to change. Also, leaders should seize the opportunity to help employees focus on the positives that can come from change. Leaders should model behavior so that not only will employees tolerate or "get through" changes; they will enjoy it and see the opportunities that could arise.
The Leadership Factor
Agile companies help leaders build the necessary skills for leading through disruption and change. They teach them how to keep things positively focused and to help employees see the potential. Managers should thoughtfully prepare and practice how they will convey key messages vs communicating "on the fly." Effective communication also dramatically lowers passive resistance.
Companies need to teach managers how to communicate throughout their ongoing leadership development so they can master this important skill. Also, leaders need to help people celebrate successes. Employees are motivated when they can look back and feel good about something they have achieved along the way. Leaders can help people see their progress.
Leaders should follow the CUSP model:
C = help employees feel like they can re-establish CONTROL
U – make sure they UNDERSTAND the reasons for the change
S – offer SUPPORT. Help managers reassure people that concerns are normal
P – stay focused on the PURPOSE and the POSITIVES
Thank you to all who attended our Thought Leadership Event on 11/9, and thank you to our panelists for sharing such fresh perspectives and insights on organizational agility.
Relive the morning of learning and networking through our Facebook album posted on the Advanced Resources Facebook page.


---
---