The company you work for is a badge of sorts, it signifies who you are and what you're about. Working in a culture that mirrors your values provides a sense of "belonging". Do you agree or disagree with this statement?
Read Part 1: Understanding Employer Branding to Get What You Want
This sentiment, according to CultureQ Project research, represents a paradigm shift in today's workforce culture, where technology has removed the boundaries that historically divided work and personal lives. Employees are now ascribing organizations with the characteristics of friends, family, and even enemies—looking for them to focus on the things we care about and if they don't, joining forces with a company that does. In effect, a company is no longer just a company and a job is no longer just a job. Because of this, job seeking is about aligning your intrinsic motivation with the performance achievements of your work.
CultureQ Project identified two trends that have formed an inextricable link between business and society: 1) The unprecedented level of transparency brought on by social media has given employees power over their employer's reputation, 2) With the lack of trust in governments to solve social problems and society's challenges, employees look to their employers to help them achieve their ideals.
Not to be mistaken however, the employee-employer relationship is as much dependent on you, the employee, as it is dependent on the employer. Your intrinsic motivation is something that no company can dictate. You must foster your own connection to something deeper and more meaningful than a paycheck.
The way to determine if your intrinsic motivation is aligned with an organization is by evaluating its mission, how that mission is manifested in the workplace, and the benefits provided to help you reach your goals—both personal and professional.
Mission
A thoughtful mission statement helps link employees to a larger purpose. In modern society, the best employers are those that help us achieve our personal goals and collaborate with us to address larger, more generalized worries about the economy, environment, and the world. The mission of an organization is the organization's ethos, it is the reason why they do what they do.
For ourselves, research proves our 'why' is in fact deeply rooted in our biology and manifests in our psyche as the familiar, 'gut feeling.' We are hardwired to seek our purpose and cause.
How do you know if an organization is aligned with your intrinsic motivation? Ask yourself: Does the mission of the organization mirror the values I hold true and aspire to? How will I feel being associated with the organization? What are the "human traits" of the organization, and do I relate?
Workplace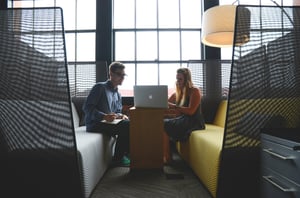 The workplace is where day-to-day interactions with the organization occur. The workplace is the evolving context of the brand, and exhibition of the mission. The functionality of the workplace is indicative of the functionality of the organization as a whole, and it is shaped by environment and resources.
Environment
In her article, The Intangible Things Employees Want from Employers Anne Bahr Thompson explains, "All people expect their employers to treat others fairly, behave ethically, and be proactive in their business practices—toward their employees, suppliers, business partners and other stakeholders. Indeed Baby boomers, Gen Xers and Millennials all respect and become fans of businesses that exhibit human traits and are honest about their shortcomings, providing (they) have not been duplicitous and are making concerted effort to improve."
Since it is the people that influence the culture and environment of the workplace, we consider the collective behaviors and attitudes of current employees, as well as the design intention of the workplace—does it promote collaboration or isolation, does it convey a flat organizational structure or a hierarchy—to determine if the organization is transparent in meeting our expectations.
How do you know if the environment of the organization aligns with your intrinsic motivation, ask yourself: Are these the type of leaders I would like to report to, learn from and have as mentors? Are these the type of teammates I will be able to collaborate with, be challenged by and compete with?
Resources
Gone are the days of companies advertising "top of the line technology" as a value-add to their employer brand, keeping up with technology is a given. When it comes to evaluating the workplace, it is the non-tangible resources that rise to the top as the true value-add to the employer brand.
The top intrinsic motivators for top performers are development, recognition and reason, which is why to be a top employer, organizations must provide such opportunities. Whether for customer service, sales, collections, HR, IT, marketing, across all departments and levels of leadership, training and development is an essential resource.
The amount of time available for ongoing training, leadership development, and one-on-one mentoring is a key resource that can easily be overlooked in the age of efficiency. Understanding that time is a major factor of successful training is essential to understanding why resources are not mutually exclusive entities, but an entire ecosystem dependent on all parts.
How do you know, by evaluating resources, if an organization is aligned with your intrinsic motivation? Ask yourself: How well does the organization perform in their space? How accessible is management: will they have enough time for me or are they spread thin? How does the company develop its future leaders?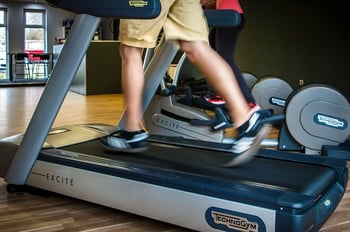 Benefits
Fair salary and benefits are the basis of trust in the workplace, and the starting point for any company looking to create a better employer-employee relationship. Employee benefits are a means of ensuring people get regular acknowledgement and praise for a job well done.
In the War for Talent, organizations offer benefits that brand themselves as a stand-out employer. Here we see the rise in ping-pong, yoga classes and company-catered lunches in the workplace. Benefits are another way for brands to reinforce their values by investing in the things that are important such as health, happiness and prosperity in the future.
Voluntary benefits: 401(k) or 403(b) match, life insurance, short-term and long-term disability provisions, child and elderly care, health, dental and vision insurances, tuition reimbursements
Paid Time Off (PTO): Vacation days, sick days, personal days, volunteer days
Perks and Freebies: Some of the more popular ones are stock options or discount purchase of stock options, discounts of any kind (gym, spa, car, restaurant, store, etc.), transportation reimbursements, company-wide retreats, sponsored happy hours, catered lunches.
How do you know, by evaluating the benefits, if an organization is aligned with your intrinsic motivation? Ask yourself: What is offered in the voluntary benefits package? Do the perks and freebies align with the mission of the organization? Do these benefits indicate that the company cares about its employee's financial, physical and mental well-being?
So when considering your options, consider the organizations that will provide you a sense of "belonging" and connect you to something that truly matters to you, because that will enable you to achieve your full potential.
At Advanced Resources we are proud of the "badge" we wear. We dedicate our work, placing top with top employers, to truly "Making a Difference" in the lives of everyone we serve. Take a look at some of the success stories of how we've enabled our candidates to achieve their full potential. With Advanced Resources, it's not just business as usual, it's personal.