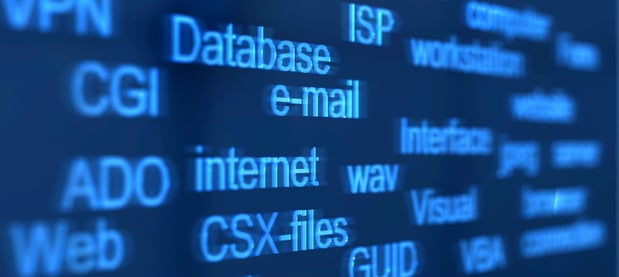 Has technology changed the way you do business? It seems there are always new tools to help automate processes, new ways to collect and manage data, and buzzworthy new apps that revolutionize communication. All this technology is great, but companies need a strong team to implement, manage, and protect that technology and the information that courses through it. Attracting and retaining IT talent is critical to success in the modern business world.
Every organization that leverages technology to get the job done will require technology support, making skilled IT workers very much in-demand. In fact, technology has been one of the fastest growing occupation industries in the last few years. Whether you are hiring an Information Security Analyst or a Computer Support Specialist, the competition to attract and retain top talent will be tough. How can you win the fight for IT talent? Start with Learning.
IT + Training & Development = Win
When considering the battle for the best technical employees, the power of training and development is often overlooked but it can actually be a winning formula for both the employee and the organization.
IT and technical professionals tend to be passionate about technology. Providing opportunities to enhance, deepen, and broaden their skills will keep them interested in their work and help them to develop as individuals. This can also provide them with opportunities for advancement within the company and other ways to move their career forward. Furthermore, they will see that the organization is investing in them, which can boost morale and raise overall engagement. The employee also gets the benefit of staying current and competitive in the IT field, which can sometimes frighten corporate leaders.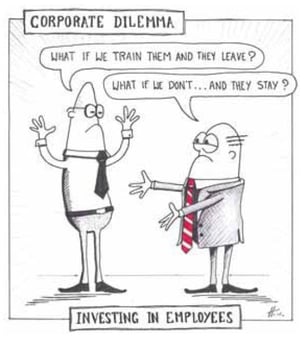 I'm reminded of this cartoon, which reads:
"What if we train them and they leave?"
"What if we don't… and they stay?"
The fast pace of technology advancements and evolving best-practices require an IT team that is current and "in the know." If a company is not investing in their technology department by providing ample learning and development opportunities, they will be at a disadvantage. Not only will they put themselves at a higher risk of voluntary turn-over, they will also be at risk of falling behind the technology curve, a risk no company can afford to take.
IT talent will continue to be in demand, perhaps even more so as technology continues to permeate every aspect of business. Providing new challenges, paths to career development, and potential advancement through learning programs is a great way for companies to lower the risk of turnover. Companies will get the added benefit of employees who are up-to-date on the latest technology advancements. This also offers a way to introduce new skills to current teams so that IT departments can be more agile. Technology will continue to change the way companies do business … equipping your IT staff with knowledge will prove to be valuable for both you and your employees.
Are you looking for top IT & tech staff in the Chicagoland area? Take a look at Advanced Resources' Technology division for highly-skilled contract and direct hire talent.
Want to learn how Advanced Resources keeps their top-notch talent? Download "Retaining the Best and Brightest Temporary Workforce."