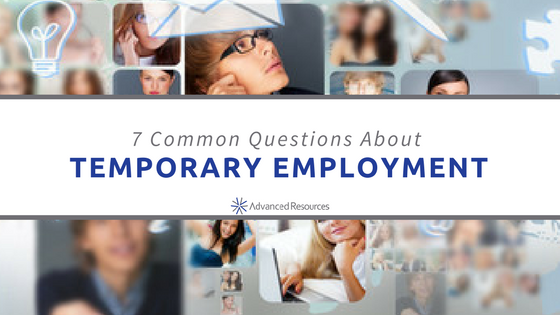 Did you know that more than 15 million professionals are employed by U.S. staffing firms each year? That number is growing every day as more businesses are investing in their contingent workforce to execute both critical projects and essential day-to-day operations. Simultaneously, employees are discovering the benefits of career autonomy in the "gig economy," as we've come to know it today.
With the population's growing interest in the gig economy, old myths and new rumors get mixed in with real truths, often leaving important questions unanswered. In light of National Staffing Employee Week, we're setting the record straight about temporary employment and answering seven common questions about temporary and contract employment.
Let's start with a big one…

1) Why do 15 million professionals choose temporary employment?
According to 2014 ASA Staffing Employee Survey, there's a variety of motivators.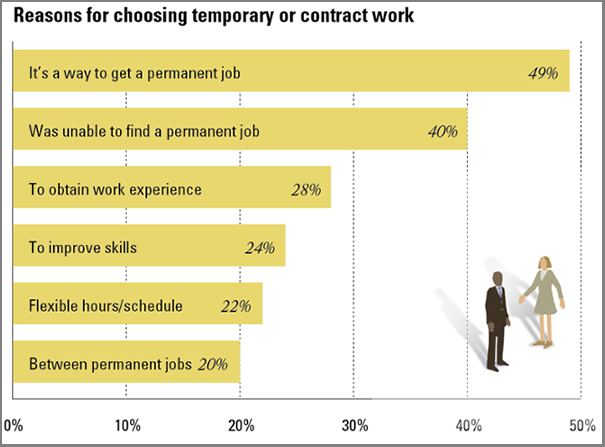 49% chose temporary staffing because it's a way to get a permanent job

40% chose temp work because they were unable to find a permanent job

28% chose temporary work to obtain work experience

24% cite improving skills as the top reason for choosing temporary employment

22% cite flexible hours as their top reason for choosing temporary or contract work

20% found temporary employment to be a good option between permanent jobs
2) When you say "temporary" employment, does that mean temps only work part time?
No, that's a big misconception about temporary employment. People sometimes mistakenly take "temporary" to mean part-time but that couldn't be farther from the truth. In fact, ASA data shows 76% of temporary employees work full time. By comparison, 82% of the permanent workforce works full time.
This is an important data point that shows the opportunity for full time employment is highly comparable to that within permanent employment.
IRS definition of a Full-Time Employee is at least 30 hours of service per week, or 130 hours of service per month.
3) Why do 90% of temps say staffing makes them more employable?
If you have your sights set on a particular company, getting your foot in the door with a temporary position can be a great move. Data from ASA supports this strategy as reportedly 33% of temporary positions are offered full time positions and 66% of those offers are accepted. Temporary staffing is also a strategic career move for professionals looking to gain on-the-job experience and add high-demand skills to their resumes.
See Kenya's story of how she gained critical finance experience through temporary employment to become a credit manager.
Have you heard of or tried a different strategy that worked for you? We'd love to hear how staffing made you more employable. Tell us in the comments section below!
4) What kind of opportunities are available for temporary work?
There are opportunities for temporary work in any industry and for professionals with virtually any occupational background. Pilots, biotechs, teachers, videographers, dentists… there's temp work for everyone.
ASA statistics show the following industries staff the most temporary employees:
37% Industrial

28% Office

13% IT and Science

9% Healthcare
The average contract length is just under three months, however contract lengths can range anywhere from a couple hours to several years. If you're able to commit, there's an opportunity for you.
5) Do temporary employees get benefits?
Most staffing companies offer health insurance as well as vacation and holiday pay, and retirement plans. As you'd expect, the types of plans and coverage varies per company so you should be able to find the type of benefits you're looking for. Be sure to ask.
6) Is there a pay difference between temporary and permanent employees?
No:
To attract the most qualified employees, staffing firms must offer highly competitive wages and benefits. Compensation valuation for temporary and permanent employees depends on the same factors, including location, tenure, experience, etc.
Yes:
Most often, temporary employees' wages are based on an hourly rate as opposed to permanent positions which are based on an annual salary.
7) Why is temporary employment in the U.S. growing so much?
As of today, there are 17,000 independent companies in the U.S. Revenue of the temporary staffing industry is expected to grow 3% and reach $145 billion in 2018, according to SIA US Staffing Industry Forecast: September 2017.
A number of macroeconomic factors have caused businesses to invest in their contingent workforces to execute critical projects and essential day-to-day operations. Simultaneously, Americans are discovering the opportunities within temporary employment to achieve fulfillment and success in their careers.
Interested in learning about the temp opportunities in your industry? Click here to find your next opportunity.