The tech industry is booming, and with all the new tools available it can be difficult to find your company's place in an automated new world. However, integrating new technology may not be as daunting of a task as it seems and can allow your company to grab an even bigger slice of the pie.
In our latest Thought Leadership Event, The Rise of HR Tech - Trends & Tips for 2020, we selected a panel of experts to discuss how HR Tech plays a role in their companies. They shared their experiences on integrating new tech, how to empower your team with new tools, and even shared a few of their favorite platforms. Our tech-savvy panelists included: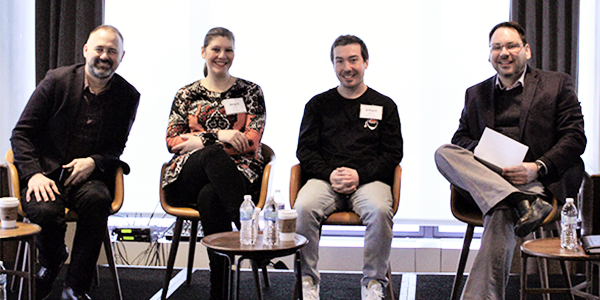 Each panelist had great points about the implications of HR tech and provided their take on how it can be used successfully. Here were our main takeaways from their discussion:
1. The impact to your HR department.
The focus here is efficiency. There are things like automated scheduling platforms, integrated calendar links, phone call transcription software, and a myriad of simple tools that can substantially increase productivity, while allowing employees to focus on what matters. Angie explained that her company focuses primarily on tools that will remove tasks that are repetitive or time consuming. Mike also noted that there are more and more web-based technologies that make it increasingly easier to work with remote members on your team.
2. Test new tools and track their success.
There is no specific answer to what technologies will work the best for your company. However, there are organizations like SourceCon, UNLEASH, and many others that can guide you in the right direction. Don't be afraid to try out a demo or a pilot program, and be explicit about the goals you are looking to achieve. When testing, be sure to set a strict timeline, map out success metrics, and get your team involved to make the process as efficient as possible.
3. Empower your team to use new tools.
Diving into new tech should be a positive experience. "There's a big misconception that it's going to replace people, and I don't think we're anywhere near that," said Elliott, who thinks employees tend to be intimidated by AI buzzwords.
"There's not a lot of artificial intelligence happening right now, it's automated intelligence."

-Elliott Garms, Co-founder at humanpredictions
The panelists agree that expressing to your team that these tools are here to help and make things easier, allowing the process time, making a habit of using new tools, and leaning into using new technologies are the keys to getting your team on board with innovation.
4. Don't spam your prospects.
The reality is that technology can fail, and it can fail often. You always need a team member behind the helm to ensure that your outreach is not overkill and does not appear generic. When interacting with prospects, Angie notes, "It's not about us, it's about them, so you have to make it about them. If you do not give them a positive experience, they will kill you on social media." Elliott chimed in stating that, particularly with tech prospects, you want to avoid using a technology that they have built to try to trick them. "It's insulting. Let's use data to really find the people that are interested, otherwise it can hurt your brand," he added.
5. Always add a personal touch.
The "magic number" of emails to send before a prospect responds is 7. While it may be difficult to personalize every message, including a GIF or some humor can send your response rates through the roof. Mike notes that his company focuses on loyalty as well as an experiential component, "We want to connect and create an experience that's personal."
6. Panelist recommended tools and software.
Don't know where to start? Here are a few of our panelists favorite tools:
At Advanced Resources, we feel that hosting these thought leadership panels is an important way to do our part to bring light to topics that are critical to our clients. If you are interested in attending future events, reach out to our team.