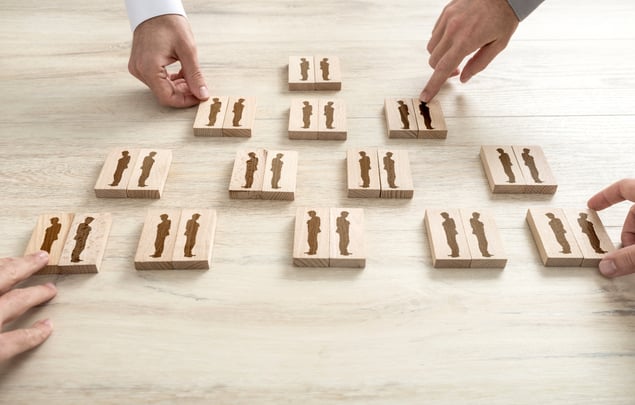 As the number of contract workers climbs, it's a good time to think about how to extract as much value as you can from your workforce strategy.
The "gig economy", the "augmented workforce", or "open talent economy"… regardless of what we call it, leveraging external talent to get work done is not quite the new trend some think it is. The fact is, organizations have been using contractors for ages.
As of today, contractors make up about 40% of the workforce and the shift continues; by 2020 this number is expected to grow to 50%.
As the number of contract workers climbs, it's a good time to think about how to extract as much value as you can from your workforce strategy. After examining industry conditions, talking to clients, and looking at the research, we've gathered insights that have us feeling more excited than ever about the future of work.
As you think about designing your workforce strategy, don't just consider the key benefits that a contingent workforce offers; consider optimizing the strategy to get the most value possible.
Take the Interactive Assessment: How Effective is Your Contingent Workforce Strategy?
Here's how to get more value from the three biggest benefits of a flexible workforce.
1. Controlling Labor Costs
Perhaps the most obvious reason to engage external workers is the ability to accomplish business objectives while controlling labor costs. Budget is always a consideration, but securing additional headcount entails a solid business case and it is nothing short of a miracle if it gets approved! For as much as we would like to bemoan this fact, it is the new normal. We are accustomed to doing more with less.
Read more: Understand your Real Workforce Costs: Calculating the Total Cost of Labor
Leveraging talent from the outside, temporarily, allows us to achieve multiple initiatives in parallel without the burden of long term benefits costs. Add in the internal cost avoidance of payroll and benefits administration as well as training and development and it becomes that much more compelling.
Need help making the business case? Here's a sample scenario of a workforce solution value proposition. Click to enlarge image.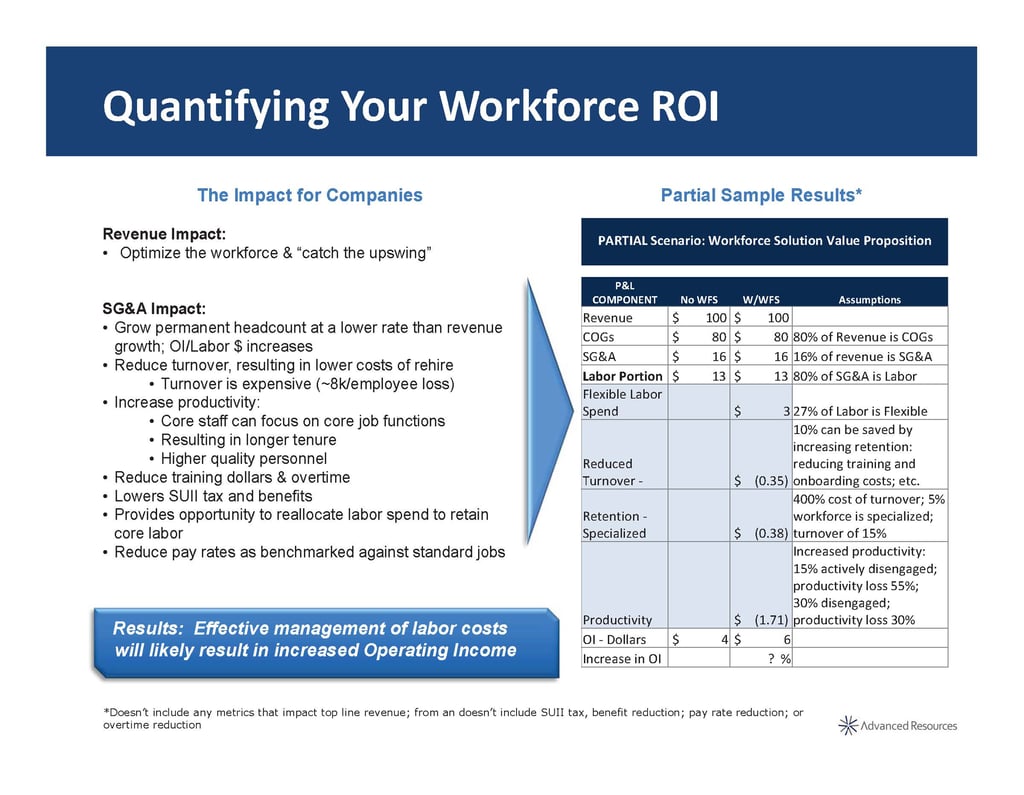 Get More Value: If you really want to maximize savings, begin the arduous (but worthwhile) effort of consolidating spend with suppliers who can do more for you. Vendors with multiple lines of business who take the time to understand your business inside and out will pay dividends. In fact, research shows a rate of diminishing return after using more than 8 vendors.
2. Elevating Performance
If you just consider labor costs you're missing the true ROI. One of the greatest things to happen when infusing external and internal talent is the compound interest of experiences and skill sets. Keep in mind that many contractors choose this type of work arrangement because of their desire to do the work they enjoy and gain exposure to many different cultures and initiatives.
When bringing these experts into the mix, "power teams" can be created.
According to a recent Forrester Study, Address Critical Skill Gaps With On-Demand Knowledge, 78% of companies utilizing on-demand workers to staff key business objectives report high levels of satisfaction.
Get More Value: We can only harness this power, however, by fostering open communication and team cohesiveness. Too often we stick our consultants in the corner to plug away without drawing out the ideas and perceptions they have garnered. Consider meshing your external and internal team members' ideas as frequently as possible and listening closely for the genius that can come from diverse talent.
3. Agility
There's no shortage of jobs in the U.S., but what we are seeing is a skills mismatch. According to a 2017 McKinsey Report, Jobs Lost, Job Gained: Workforce Transitions in a Time of Automation, 40% of U.S. companies can't fill open positions. And as of Q1 2018, there were 6.9 million employed and 6 million open jobs.
What's the solution? Leveraging contingent workers on-demand, either in the form of augmenting your staff or acting in a professional services capacity can help organizations in two ways.
First, they allow employers to gain access to the expertise they need for critical projects without having to develop the necessary skills internally; an attractive alternative if they simply need these skills for peak projects. This also alleviates the need to develop skills internally if they are not strategic to the organization.

Secondly, in instances where temporary work has the potential to become permanent, employers may elect to offer full time positions to contractors. Although this is dependent on the career desires of the contractor and the structure of the contract with the vendor, it's a viable option.
Get More Value: With any major initiative like this, it starts with streamlining processes, analyzing spend and interviewing key stakeholders in your organization who are in a position to give feedback on supplier performance.
Look at consolidating spend in a strategic way…who are your best suppliers? Where are you allocating your resources and why? The suppliers who understand your business inside and out and are willing to innovate right alongside you, are the partners you want to grow with. You'll move faster and more confidently (and avoid costly pitfalls) by working with fewer but more comprehensive talent solution partners. Find a partner with at least three core capabilities: consulting services to help assess and build the various processes, staffing solutions to provide the desired talent on-demand, and workforce solutions to optimize and sustain agile workforce strategies.
In addition to benefiting from volume discounts most vendors will offer, consider the internal cost savings derived from paying hundreds fewer invoices and interacting with only a few suppliers. The relationships that come from this effort will surprise you. Suppliers who have earned your loyalty should go to bat for you time and again.
How Do the Benefits Translate?
The question always comes back to "so what?" If we do all of those things well, how will we be better in the end? One of the most clear ties should be overall organizational performance.
Think of it this way, if you are investing in relationships with your staffing and professional services partners, you should be getting top talent that they know will fit because they know you. They have access to the right skills and competencies that you need for your projects. When combined with the ongoing development of your internal employees, performance elevates across the entire organization. Financial performance should be positively impacted too. Engaging talent on demand allows you to pay only for what you need, when you need it.
Designing the ideal workforce strategy requires significant effort; however, the benefits outweigh the risks by a landslide. Typically organizations are contributing just 1.5% of revenue to contingent labor, a small investment related to the return to the organization. With the unprecedented pace of change and uncertainty in business today, agility and performance while controlling costs is the name of the game.
What do you think? We'd love to hear about the advantages and challenges you are experiencing!
Discover a path for successfully transforming to a modern flexible workforce model. Download The Modern Manager's Guide to A Flexible Workforce: Create Fast, Nimble Team Through a Talent-On-Demand Approach.